Proven Proprietary Technology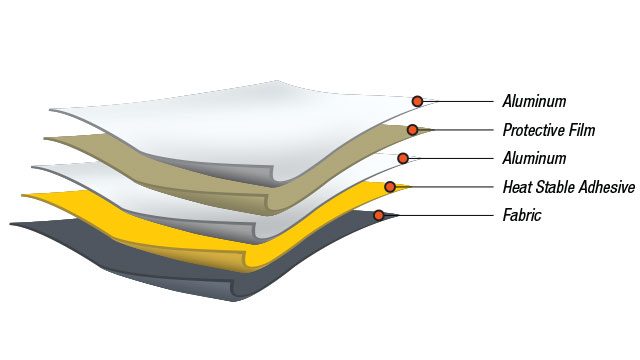 Proven Proprietary Technology
Leveraging its roots as a silk manufacturer in the early 1900's, Gentex Corporation pioneered the technology of combining metals with fabrics in the 1950's for U.S. military researchers probing the upper atmosphere. Today, Gentex Corporation is the global leader in high-performance aluminized fabrics with its Dual Mirror brand.
Five-Layer Structure
The proprietary Dual Mirror system incorporates a proven five-layer structure that ensures a high level of abrasion resistance, so the fabric remains highly reflective.
The five layers consist of an outer layer of aluminum protective film, a second layer of aluminum heat-stable adhesive, and the base fabric. These layers are all combined to form a single homogeneous fabric.
A metalized aluminized surface has proven to be the most effective flexible barrier for stopping radiant (infrared) heat. The mirror-like surface reflects radiant heat away, rather than allowing it to be absorbed through the fabric.
The unique Dual Mirror structure has proven to be very effective in the metals industry. It not only reflects the radiant heat allowing an operator to work very closely to the molten metal but it also provides protection in the event of a molten metal splash. It is effective for both Ferrous and non Ferrous metals (molten aluminum splash included).