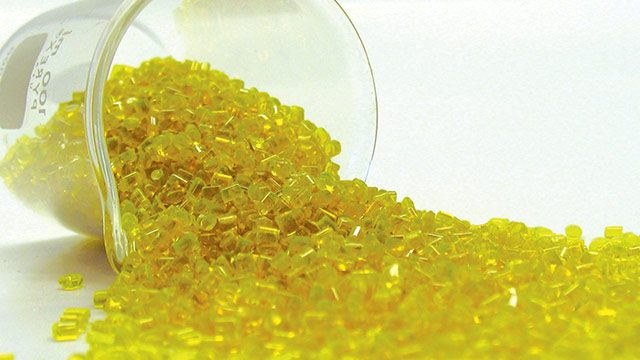 Filtron Resins
Many of the same light management solutions for laser protection (Filtron E-Series Edge and Wavelength Pass Filters, or Filtron S-Series Infra-Red Suppression Filters and welding filter grades) are available in moldable resins, typically in polycarbonate or acrylic. Custom filter solutions can also be supported to meet specific spectral requirements in the UV – NIR.  Filtron resins can be supplied either as ready to run or as concentrates with custom letdown ratios.
Our compounding capability is configured to support laboratory batch quantities through full scale production. Batch sizes are controlled to ensure uniform spectral and mechanical properties. Our quality controls for the base resin as well as the compounded product consider full mechanical, thermal, and spectral properties to ensure the highest yields for injection molding or extrusion.
Let our technical staff assist you in crafting a specific resin solution that will meet your light filtration specifications in molded or extruded form.
CONTACT US
Click here to get contact information for obtaining more product information, getting a quote, placing an order, obtaining order status, getting technical support, or for reaching one of our global distributors.
The export of Gentex Corporation products from the U.S. to a foreign entity or party is subject to U.S. International in Arms Regulations (22 CFR 120-130) or U.S. Export Administration Regulations (15 CFR 730-774), as applicable. For more information about export classification of a specific product, please contact Gentex.