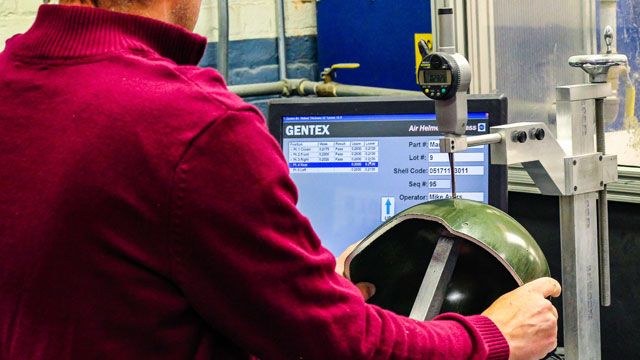 Quality
Quality Is the Foundation of Our Company
For over a century, Gentex Corporation has been a world-class manufacturer of personal protection and situational awareness solutions and products.  To maintain this status, we employ our own Quality Policy and operate under an ISO 9001 Quality Management System.
Quality Policy
Gentex Corporation is committed to providing personal protection and situational awareness products to defense forces, emergency responders, and industrial personnel operating in high performance environments. We do so by delivering superior products in a manner that serves employees, customers, and the community, while preserving the environment. To meet this commitment, we work as an integrated team, sharing responsibility for:
Delivering products on-time and of the highest quality and performance
Conducting ourselves with integrity and the highest standards of ethical behavior
Collaborating across our Enterprise to consistently deliver superior solutions
Employing top notch talent and cultivating personal growth
Being good community citizens and environmental stewards
L.P Frieder, III
President,
Gentex Corporation
The above policy is communicated to all employees via awareness sessions and employee handbooks. The quality policy is to be understood by each employee and reinforced periodically through training, visual aids, and management/supervisory commitment.
Quality Management Process
Gentex Corporation operates under an ISO 9001 certified Quality Management System that is supplemented with additional quality system requirements that meet the AS9100C and AS9100D standards that provide strict requirements established for the aviation, space, and defense industries. These standards ensure that our Quality Management Systems consistently provide products to meet our customer's requirements, enhance their satisfaction, and ensure process measurements to support continuous improvements. As part of this certification, a third-party agency audits our management, engineering, manufacturing, testing, and other support processes to verify that the exacting requirements are consistently met. Additionally, the AS9100C and AS9100D standards require Gentex to supplement its Quality System with enhanced risk management, supplier management, continuous improvement, to process effectiveness measurements. These additional requirements and Gentex's own Quality Policy ensure that Gentex is a world-class manufacturer of personal protection and situational awareness solutions and products.