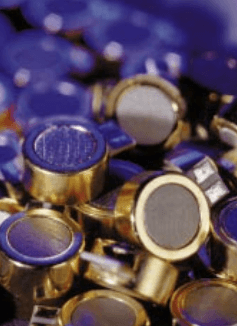 Electret Capsules
Clarity.  Accuracy.  Reliability.  Design Flexibility.
Gentex Corporation's electret capsules deliver clarity, accuracy, and the reliability needed to deliver maximum performance, even in extreme noise environments.  Each capsule is built to be noise-canceling, unidirectional, or omni-directional.  Plus, with our flexible design, you could give your product unique features and make it easier to use.  Integrating a Gentex electret capsule into your product can give you a distinct advantage.
Trusted Supplier for over 40 Years
Levering it's over 100 year history of innovation, Gentex Corporation has been producing low-noise, high clarity capsules and microphones for over 40 years for use in their products, such as helmets, and for their OEM customers.  Out of their new state of the art facilities in Manchester, NH the company continues to produce electret capsules and microphones and has expanded its product line to include boom assemblies, vehicle intercom systems, and electronic sensing equipment.
Contact Us Today
Contact one of our communication's experts to discuss your needs and how we can help design an electret capsule to fit your specific application.