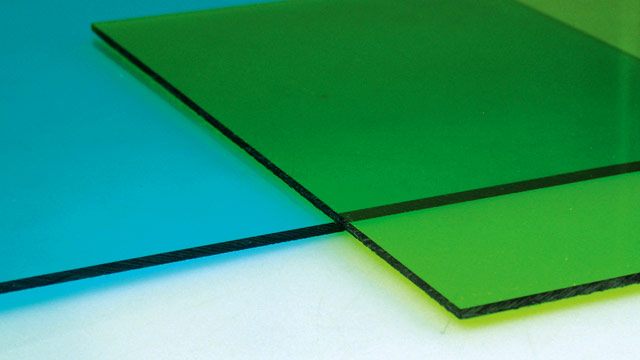 Filtron Laser Protective Sheets
Common Applications
Filtron Laser Protective Sheets are commonly used to:
Protect personnel using lasers in manufacturing processes
Shield healthcare professionals while operating laser medical treatment devices
Protect researchers who work with laser devices
Provide light shielding materials for military applications
Stock Sheets
Filtron absorptive dyes are homogeneously dispersed into acrylic resins and configured into sheets that are available in 24″ x 36″ and 36″ x 48″, both in 0.125″ and 0.250″ thick acrylic format. Custom sheet sizes, polycarbonate plates, and moldable resins are available upon request.
View and learn more about our stock sheets in the chart below.
Custom Sheets
In addition to our stock sheets, we can design custom Filtron Laser Protective Sheets for you to attenuate any wavelength from 180 to 1600 nm, or customize an absorber solution to attenuate several wavelengths within one Filtron Laser Protective Sheet. Custom solutions for acrylic formats are available upon request, both in standard sheet sizes as well as custom dimensions.  Custom thicknesses are available from .080" – .250", depending upon requirements for optical density.
CONTACT US
Click here to get contact information for obtaining more product information, getting a quote, placing an order, obtaining order status, getting technical support, or for reaching one of our global distributors.
The export of Gentex Corporation products from the U.S. to a foreign entity or party is subject to U.S. International in Arms Regulations (22 CFR 120-130) or U.S. Export Administration Regulations (15 CFR 730-774), as applicable. For more information about export classification of a specific product, please contact Gentex.