Gentex Hosts Lockheed Martin and Interactive F-35 Cockpit Demonstrator
Gentex Hosts Lockheed Martin and Interactive F-35 Cockpit Demonstrator
U.S. Senator Maggie Hassan "Flies" the Most Advanced Multi-Role Aircraft in the World
September 25, 2017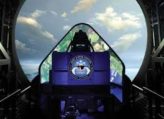 Carbondale, PA, September 25, 2017. Lockheed Martin [NYSE: LMT] today showcased its F-35 Lightning II cockpit demonstrator to elected officials and leaders in the business community at Gentex Corporation, an important supplier for the F-35 program.
Gentex Corporation is a key supplier for the F-35 program, which serves as a cornerstone for global security and creates jobs across the United States. Lockheed Martin chose Gentex Corporation to develop and provide the F-35 helmet system platform, the respiratory protection system, laser eye protection, hearing protection and communications devices, and an array of technical services and sustainment support. Gentex Corporation's unique, modular, helmet system design allows F-35 pilots to easily integrate current and future performance enhancing technologies without compromising protection, keeping them and the F-35 safe and a step ahead.
During the event attendees received an update on the status of the F-35 program as well as the opportunity to "fly" the F-35 cockpit demonstrator to gain an understanding, from a pilot's perspective, of how stealth, fighter agility, sophisticated sensor fusion and advanced computational capabilities make this the most lethal and survivable strike fighter jet ever built. The cockpit is visually and audibly interactive and provides a realistic look at the F-35's performance "flying" both air-to-air and air-to-ground missions.
"The manufacturing and defense industries are critical to the Granite State's economy and to keeping New Hampshire and America safe, secure, and free," said Senator Hassan (D-NH). The advanced 5th Generation technology that the F-35 provides is important in keeping our military service members safe, and I commend the hard-working men and women of Gentex for their commitment to our national security. I will continue working to support the important F-35 program as we strive to build an even stronger and safer state and country."
"We are very pleased to be here at Gentex today. Our suppliers are one of the key reasons for the F-35 program's success and we are proud to showcase Gentex's hard work in producing critical parts for the F-35 program. We are also very happy to welcome Senator Hassan and members of the community to Manchester to demonstrate the capabilities of the F-35," said Bob Rubino, deputy director, F-35 Program at Lockheed Martin. "There are 55 F-35 program suppliers located in New Hampshire, supporting more than 3,520 direct and indirect jobs and providing more than $481 million in economic impact throughout the state."
"This is an exciting day for Gentex. It's an honor to host the F-35 cockpit demonstrator and to welcome Senator Hassan and the greater Manchester community to our facility," said Robert McCay, vice president, Aircrew Systems, at Gentex Corporation. "Gentex is proud to be a supplier for Lockheed Martin's F-35 program. We're confident that the advanced technologies in the human-factors engineered products we're contributing to the F-35 program will deliver the capability and protection aircrew and aircraft maintainers have come to expect from Gentex for over 65 years."
The F-35 provides economic stability to the U.S. and Allied nations by creating jobs, commerce and security, and contributing to the global trade balance. In 2017, the F-35 program has more than 1,400 suppliers in 46 states and Puerto Rico, employs more than 170,000 people (direct and indirect), and generates an economic impact of over $24 billion. As the program reaches full rate production, there will be an increase in jobs and economic impact.
The F-35 Lightning II is a 5th Generation fighter, combining advanced stealth with fighter speed and agility, fully-fused sensor information, and network-enabled operations.
About Lockheed Martin:
Headquartered in Bethesda, Maryland, Lockheed Martin is a global security and aerospace company that employs approximately 97,000 people worldwide and is principally engaged in the research, design, development, manufacture, integration and sustainment of advanced technology systems, products and services.
About Gentex Corporation
Leveraging a history that spans over 100 years, Gentex Corporation is a leading provider of innovative solutions that enhance personal protection and situational awareness for global defense forces, emergency responders, and industrial personnel operating in high performance environments. The company's product portfolio includes helmet system platforms and capability upgrades for defense and security forces, sold under the Gentex, Ops-Core, ALPHA, Cromwell, and Argus brands; Aegisound hearing protection and communications products for military and industrial personnel; PureFlo industrial respiratory protection systems; Dual Mirror aluminized fabrics; and Filtron light management technology. Privately held, Gentex is headquartered in Simpson, Pennsylvania, and supports its global customers through a worldwide distributor network and five other facilities in the U.S. and the U.K. Learn more at www.gentexcorp.com.
Media Contacts:
Alison McKibbin
Lockheed Martin
Alison.orne.mckibbin@lmco.com
(682) 239-7102
Alexandra Brax
Gentex Corporation
abrax@gentexcorp.com
+1.617.670.3547 x2440
For additional information, please visit our websites:
https://f35.com/; https://www.lockheedmartin.com; https://www.gentexcorp.com/home