22 February 2005
Gentex Military Fighter Pilot Oxygen Mask, MBU-20/P, successful in latest testing with Vision System International's F-35 Joint Strike Fighter Helmet Mounted Display System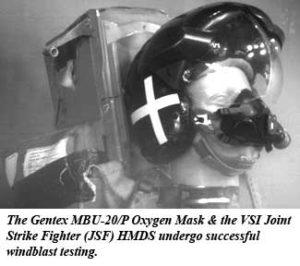 Feb. 22, 2005 (Rancho Cucamonga, CA) – Gentex Respiratory Products' MBU- 20/P Oxygen Mask was successfully tested and evaluated recently as an essential and integral performance component of the new Helmet Mounted Display System (HMDS) to be donned by U.S. and international pilots flying the next generation of military fixed-wing aircraft — the F-35 Joint Strike Fighter (JSF).
The windblast testing and integration evaluations, which were conducted by Vision Systems International ( VSI ), the San Jose, CA, -based company, which is to provide the HMDS for the F-35 JSF program, were conducted at the Dayton T. Brown Windblast Facility in New York at speeds up to 660 KEAS (knots-equivalent airspeed). The Gentex MBU-20/P Oxygen Mask, containing a Gentex Electro-Acoustics Products ( Derry , NH ) Electret Microphone, underwent integration trials to evaluate the performance and life support features and benefits required and delivered by the HMDS.
"The successful tests and evaluations are significant milestones, and demonstrate the Gentex MBU-20/P Oxygen Mask's performance in delivering essential life support and safety for the demands placed on oxygen equipment to be worn by military pilots of the world's newest and most advanced strike fighter weapon systems," says Robert McCay , Vice President and General Manager of Gentex Respiratory Products, based in Rancho Cucamonga, CA. "This is a significant accomplishment in furthering the oxygen mask's functionality and application in high performance environments. We are excited about the opportunity to provide respiratory product support to VSI's advanced HMDS for the F-35 JSF."
The F-35 JSF program is the U.S Department of Defense's focal point for defining affordable next generation strike aircraft weapon systems for the Navy, Air Force, Marines and U.S. allies — United Kingdom , Italy , Canada , Australia , Denmark , Norway , Turkey and Netherlands . The program calls upon reducing the development and production costs, streamlining the design of aircraft variants, integrating the latest technologies, and increasing aircraft and avionics performance capabilities and survivability for U.S. services and joint force operations. The first test flight of the F-35 JSF is projected for August 2006, and an estimated production of F-35s will total more than 2,000 aircraft in the ensuing years.
The HMDS contracted for development for the F-35 JSF aircraft pilots is the next generation helmet system. VSI 's system is a custom helmet shell, helmet liner and suspension system for the lightest weight, optimal center of gravity and maximum pilot comfort. The helmet system also incorporates essential pilot avionics into the actual display within the helmet – binocular wide field-of-view, day/night capability with sensor fusion, digital image source for helmet vision and displayed symbology. The helmet is also designed for the Gentex MBU-20/P Oxygen Mask to be fitted and supply the necessary life support aspects, including oxygen and communications.
The Gentex MBU-20/P already offers a distinguished and proven record as essential life support equipment for domestic and international military pilots worldwide. Currently, the MBU-20/P, and derivatives thereof, are used by pilots of the U.S. Air Force, U.S. Navy, U.S. Marines and international forces throughout the world. Further, the MBU-20/P is already qualified and is currently being fielded with VSI's Joint Helmet Mounted Cueing System (JHMCS) for the F-15, F/A-18 and F-16 aircraft platforms.
VSI's JHMCS is currently in production and operational with U.S. fighter aircraft. This advanced cueing system enables pilots to accurately direct or cue onboard weapons against enemy aircraft while performing high-G aircraft maneuvers. The pilot only needs to point his or her head at the target and weapons will be directed to where the pilot is looking. JHMCS can also be used to accurately cue the pilot to ground targets. The two-way cueing system offers critical information and symbology graphically displayed directly on the pilot's visor.
The Gentex MBU-20/P Oxygen Mask, with its distinguished military pedigree, is qualified to provide over 600 knots of windblast protection, is focused on significant logistical and costs savings through its commonality with existing and next generation oxygen systems, is designed to offer users a light-weight and low-profile mask, and is also engineered to provide low inhalation and exhalation resistance, all of which are key to delivering performance necessary for the aircrew of today's and tomorrow's aircraft.
Further, one unique feature of the Gentex MBU-20/P is the platform it already offers for the integration and compatibility of a Chemical and Biological (CB) Protection respirator, which is part of VSI's HMDS design features and environmental protection requirements for F-35 JSF pilots
"Gentex remains committed to supporting VSI in delivering state-of-the-art helmet mounted cueing systems for JHMCS with the Gentex MBU-20/P Oxygen Masks, and furthering the development of the F-35 JSF HMDS, which is clearly the next generation of capabilities for our warfighters and the warfighters of our allies," McCay adds.
Gentex Respiratory Products, based in Rancho Cucamonga , CA , is a world-leading supplier of high-altitude oxygen breathing equipment for military aircraft. The business unit of Gentex Corporation, headquartered in Carbondale , PA , is dedicated to the design, development and manufacturing of oxygen masks, test sets and respiratory connectors and accessories for military and civilian aircraft and personnel. The facility is managed and staffed by more than 100 employees, who along with Gentex Helmet Systems, Carbondale, PA, Gentex Electro-Acoustic Products, Derry, NH, and Gentex Performance Materials, Carbondale, PA, support various domestic and international military and civilian products, systems and projects.
Media Contact :
Brenda von Kleist
Gentex Corporation-Western Operations
Respiratory Products
Phone: (909) 481-7667 X116
Fax: (909) 481-7759
More recent news from Gentex Corporation


Gentex Corporation
Gentex Corporation Settles Lawsuit with Galvion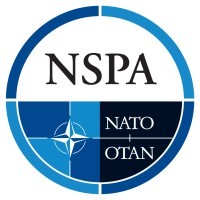 Ops-Core
Gentex Corporation Announces Contract to Supply Headborne Solutions to NATO Support and Procurement Agency (NSPA)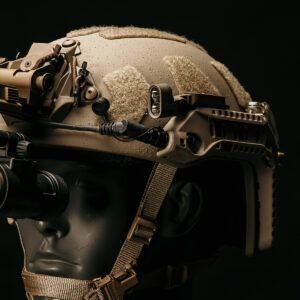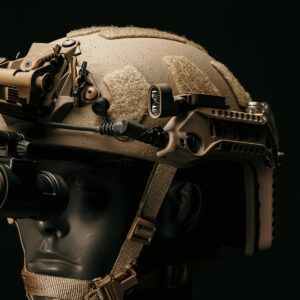 Ops-Core
Gentex Corporation Previews Advanced Concept for Ops-Core® RAILINK System