29 April 2005
Gentex Performance Materials included in Smithsonian's Cooper-Hewitt, National Design Museum 's Exhibit: "Extreme Textiles: Designing for High Performance"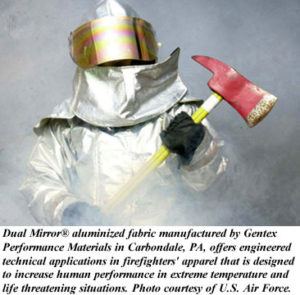 Friday, April 29, 2005 (Carbondale, PA) – Gentex® Performance Materials, which manufactures technical textiles in Carbondale, PA, is included in the Smithsonian's Cooper-Hewitt, National Design Museum's newest exhibit: "Extreme Textiles: Designing for High Performance." The exhibit, the first of its kind by the museum to be devoted to the subject of technical textiles – highly engineered materials comprised of fibers and structures designed for ultimate performance in extreme conditions — is open now through October 30, 2005.
"We are honored to be included in such a distinguished exhibit about technical textiles, which we have manufactured for more than 50 years," said John Pullo, General Manager/Vice President of Gentex Performance Materials. "Not only do the technical textiles have distinct and defined applications in apparel, aerospace, transportation and the environment, but they also offer examples of the skilled manufacturing techniques to weave and the technology to aluminize the textiles, too."
The exhibit, which opened Friday, April 8, 2005 , presents over 150 extreme textile applications from a wide range of areas. The objects featured in the contemporary design exhibition are organized in terms of their high-performance characteristics – stronger, lighter, faster, smarter, safer – and displayed throughout the museum campus, including the first- and second-floor exhibition galleries, the Great Hall and the Arthur Ross Terrace and Garden.
"Gentex Performance Materials' Dual Mirror® Aluminized Fabric is truly an evolution of science and engineering," said Steve Zawislak, Business Unit Manager of Aluminized Fabric. "Being allowed to showcase samples of our technical textiles through public display and education only furthers future innovations and applications, as well as allows greater insight into the integral components of science, industry and design that are required to provide life-supporting and life-saving fabrics for a broad spectrum of today's and tomorrow's uses."
Exhibitions Curator and Head of the Textiles Department Matilda McQuaid contacted Gentex Performance Materials in Fall of 2004 for the technical textiles displayed in the exhibit. Several representative of Gentex Performance Materials attended the exhibit's preview event in early April. Gentex Helmet Systems also provided a helmet manufactured from technical textiles for another aspect of the exhibit.
Cooper-Hewitt, National Design Museum , Smithsonian Institution is the only museum in the nation deveoted to exclusively to historic and contemporary design. As the design authority of the United States , Cooper-Hewitt programs and exhibitions demonstrate how design shapes culture and history – past, present and future. The museum is located at 2 East 91 st St. , New York , NY , and the hours of operation are Tuesday through Thursday, 10 a.m. to 5 p.m. ; Fridays 10 a.m. to 9 p.m. ; Saturdays, 10 a.m. to 6 p.m. ; and Sundays, noon to 6 p.m. The museum is closed on Mondays. General admission is $10; senior citizens and students over age 12, $7. For further information, call 212-849-8400 or visit www.cooperhewitt.org.
Gentex® Corporation, headquartered in Carbondale, PA, is a world-leading manufacturer comprised of four business units: Gentex® Helmet Systems , Carbondale, PA, is the world's leading manufacturer of helmets for military, law enforcement and civilian fixed wing and rotary wing aircraft, is dedicated to also providing precision platforms necessary for the latest, advanced helmet-mounted display systems, and is an integrator of revolutionary light management technology for protective eyewear systems for military, medical, scientific and law enforcement personnel. Gentex® Respiratory Products , Rancho Cucamonga , CA , is a world-leading manufacturer of high-altitude oxygen breathing equipment for military aircraft, and is dedicated to the design, development and manufacturing of oxygen masks, test sets and respiratory connectors and accessories for military and civilian aircraft and personnel. Gentex® Electro-Acoustic Products , Derry , NH , is a leading manufacturer of communication systems and noise-canceling technologies, including microphones, acoustic sensors and intercommunication equipment for use in high-noise military, commercial and industrial applications. Gentex® Performance Materials , Carbondale, PA, is a well-known manufacturer of advanced materials and technologies to enhance human performance, including Dual Mirror® and Flexir ® aluminized fabrics specifically designed to provide the ultimate protection from extreme heat, molten metal or high-pressure steam; Lifetex ® textiles and Rampart ® personal protective systems for military, law enforcement and related homeland security missions requiring chemical and/or biological protection; and the patented Clearweld plastics laser welding and joining technology offering unprecedented color, design freedom and manufacturing flexibility. For more information about Gentex Corporation's products, technologies and capabilities, please visit www.GentexCorp.com or call 570-282-3550.
More recent news from Gentex Corporation


Gentex Corporation
Gentex Corporation Settles Lawsuit with Galvion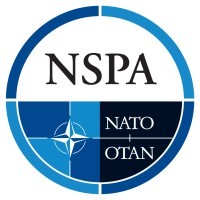 Ops-Core
Gentex Corporation Announces Contract to Supply Headborne Solutions to NATO Support and Procurement Agency (NSPA)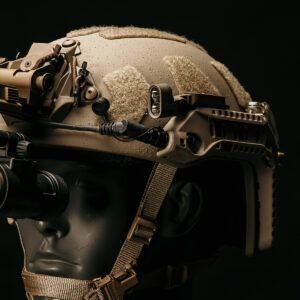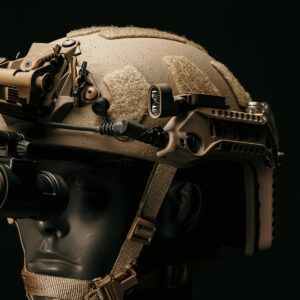 Ops-Core
Gentex Corporation Previews Advanced Concept for Ops-Core® RAILINK System