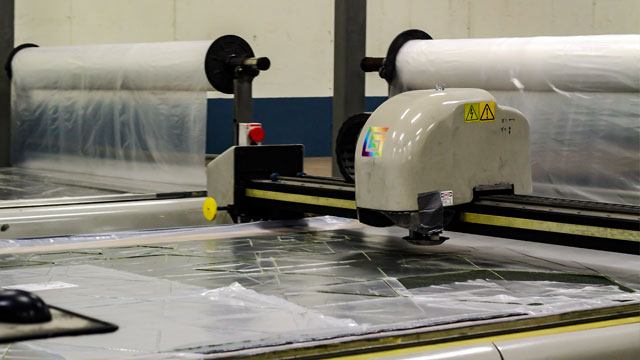 Materials
With its roots in textile manufacturing dating back to 1894, Gentex Corporation continues to invest in the research and technological development of high performance materials. The highlighted materials below represent just a few of the many ways we are working to improve the comfort, weight, protection, and performance capability of our products.
Aluminized Fabrics
Leveraging its roots as a silk manufacturer in the early 1900's, Gentex Corporation pioneered the technology of combining metals with fabrics in the 1950's for U.S. military researchers probing the upper atmosphere. With continued R&D, Gentex is today's global leader in high-performance aluminized fabrics with its proprietary Dual Mirror technology, which incorporates a proven five-layer structure that ensures a high level of abrasion resistance so the fabric remains highly reflective. While there are endless uses for our advanced aluminized fabrics, they are primarily used to create garments worn by firefighters and industrial workers operating in high-heat environments. The goal of continued R&D in this area is to achieve even the highest levels of protection and performance for end customer needs.
Ultra High Molecular Weight Polyethylene (UHMWPE)
Gentex Corporation is the first helmet manufacturer to invest in and develop capabilities to successfully produce high performing, industry leading ballistic helmets using UHMWPE materials. Our advanced research and technology development team continues to collaborate with other leading materials development partners worldwide to develop next generation UHMWPE and other materials.
Aramid Fiber
Gentex Corporation has been producing aramid fiber helmets and protective gear since the 1980s. With the capability to weave our own fabric from aramid yarns, our aramid solutions cover a wide variety of weave patterns, deniers, coatings, and material combinations thereof to meet ever-changing market needs. Plus, our patented proprietary-technological advancements allow us to mold aramid helmets without any cuts or slits, thereby improving the ballistic performances uniformly around the helmet.
Hybrid Materials
Gentex Corporation's R&D team has developed an innovative preforming and molding process that seamlessly combines state-of-the-art advanced material (UHMWPE, Aramid, Carbon etc.) combinations in a helmet shell, which delivers industry leading durability and performance against blunt impact; side to side, top to bottom compression; and wear and tear.
Material Design in Our Helmet Systems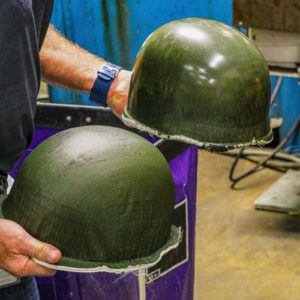 For our helmet systems, material design is a key focus as helmets are worn for extensive periods of time under extreme environmental conditions; therefore the materials selected for helmet components must be able to withstand substantial amounts of wear and tear, while also providing consistent protection, comfort, and support. These requirements can be contradictory and difficult to achieve and often require innovative solutions with unique combinations of materials and parts. Gentex carefully designs and selects materials, including some of the above, to work with one another to provide the desired performance benefits.