Gentex offers an extensive selection of high quality visors that protect the eyes and face from sun glare and flying debris while enhancing the flight experience. Choose from our wide selection of visor lenses and assemblies to suit your specific mission needs.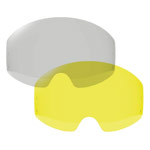 All Gentex lenses offer advanced protection while enhancing visual acuity.
Explore our line of lenses to determine the best one for you specific mission needs.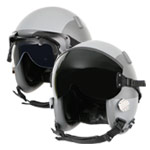 Gentex visor lenses are designed to seamlessly fit with all our visor assemblies, each providing different levels of protection and performance.
Compatible visor assemblies are available for all of our aircrew helmet systems.
Many of our helmet systems also come with a visor housing, which protects visors from damage from scratches and flying debris, provides the means to adjust visor positions, and provides a stable platform for the mounting of Night Vision Goggles.