How to Tell an Authentic Ops-Core Product
Buy from Ops-Core or an Authorized Ops-Core Distributor
The only way to be sure you're buying genuine Ops-Core products, and protect yourself from fraud, is to buy directly from Ops-Core or one of its authorized distributors. Buying from unauthorized sources can be risky. Unless purchased from Ops-Core or an authorized Ops-Core distributor, the products carry no warranty from Ops-Core. Moreover, products purchased from unauthorized sources may be counterfeit or stolen goods, and reselling such products may be subject to criminal penalties.
Report Fraud
Gentex Corporation is dedicated to delivering quality products with the highest levels of protection and situational awareness possible.  The corporation works diligently to uphold the integrity of the company and its brands, and to ensure that counterfeit or illicit knockoff products do not undermine its promise to customers. If you would like to report a suspected counterfeit Ops-Core product, please contact the Ops-Core customer service team. Gentex Corporation appreciates your assistance in preventing the distribution of counterfeit products.
What to Look For
Because of its unique, patented design, Ops-Core is often imitated. Below is some information on how to identify authentic Ops-Core products.
Two Stickers on Interior of Helmet
An Ops-Core Finished Goods Sticker includes:

an Ops-Core Logo, a Part Number, a Serial Number, the Manufacturing Date, the Size, and a Barcode.

Gentex Corporation purchased Ops-Core, Inc in January of 2012.  They then transitioned the molding of all Ops-Core helmet shells from Ceradyne to Gentex Corporation, completing that process in January, 2014.
Shell Stickers in Ops-Core Helmets manufactured after January, 2014 will include a Gentex Corporation sticker with a Gentex Corporation serial number.
Shell Stickers in Ops-Core Helmets manufactured before January, 2014 will include a Ceradyne sticker with a Ceradyne serial number.
Identification is Molded In the Helmet
Authentic Ops-Core Helmets will have the Ops-Core logo molded into the crown of the interior of the helmet.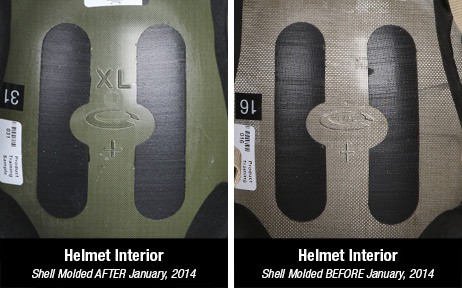 Key Components Branded Ops-Core
Ops-Core ARC Rails, Shrouds, and Nape Pads are branded with the Ops-Core logo. (Note: some Ops-Core nape pads (the Ops-Core Universal Nape Pad and new FTHS comfort pads) may not be branded.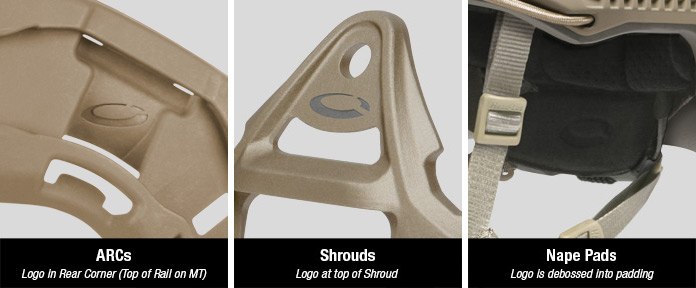 Chinstrap is Branded "Head-Loc"
On the chinstrap, both the buckles and the slides will have the "Head-Loc" brand molded in them.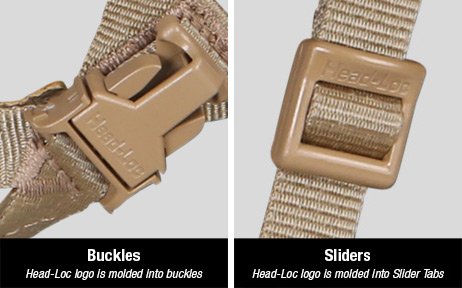 Interior Finish of Helmet is Not Painted
For all helmets molded before and after January, 2014, the paint ends about an inch beyond the edge of the shell.
Helmets molded after January, 2014 by will have a solid green interior.
Helmets molded prior to January, 2014 will have a washed out green or black interior, not solid in color.
Unsure?
If you have any doubt about the authenticity of a product that is marked with an Ops-Core logo or resembles an Ops-Core product, please contact us directly for verification.