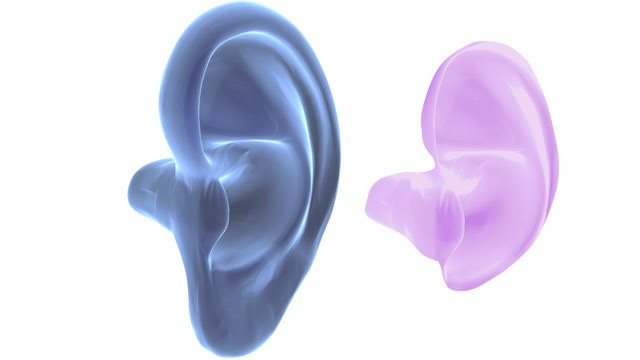 Custom Molded Digitally Manufactured Earplugs
Superior Hearing Protection, Lasting Comfort
Custom molded, digitally manufactured earplugs provide a precise, consistent fit, fast removal and insertion, and are resistant to salt-fog, fungus, jet fuel, hydraulic fluid, and other Military specified chemicals. When used in addition to Gentex hearing protection and communication products, they provide a more comfortable alternative to generic foam and plastic tips.  The eartips may be worn as tethered earplugs, a single-level hearing protector, when use with communications earplugs is not required.
How to Obtain Custom Molded, Digitally Manufactured Earplugs
All of our custom molded, digitally manufactured earplugs begin with an ear canal impression, which only takes about five minutes to complete. The quality of the impression is critical to ensuring a high-quality earplug is produced.  To achieve this, we work with customers and their audiologists to ensure the highest quality ear impressions are obtained, offering the following services:
Audiologist/Technician Identification

We will help customers identify and consult with a certified audiologist or technician who is experienced in the collection of ear impressions.

Ear Impression Requirements Material

We provide ear-impression requirements guidelines

 

to assist qualified audiologists and trained technicians in collecting ear impressions, including descriptions of important impression features necessary to produce high-quality products.

Collection Service

For corporate or military orders of significant volume, we can provide a team of qualified individuals to efficiently collect your staff's ear canal impressions.
Please contact us for more details on how to obtain ear canal impressions.
Easy, Discounted Re-Ordering
The digital manufacturing process creates a reliable and repeatable fit and simple reordering process. Because we retain your digital impressions, we can reproduce identical replacement earplugs at any time.  Replacement and spare custom earplugs made from existing digital impressions are offered at a discounted price.