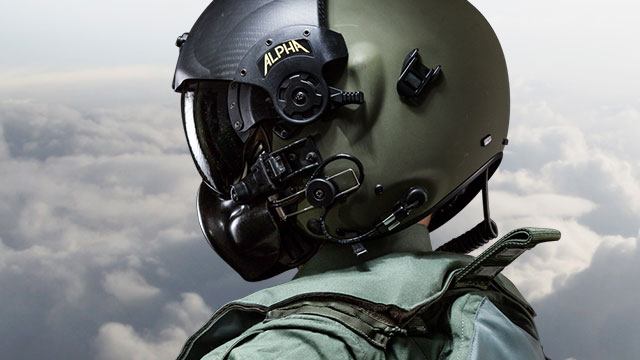 ALPHA 900 Cross-Platform Helmet Systems
Military Pilot Helmet System Adopted by the U.K. MoD
Featuring a modern and lightweight design, the ALPHA 900 Cross-Platform Helmet System replaces U.K. and other Fielded ALPHA helmets. Designed to be configured for fixed and rotary wing platforms, the ALPHA 900 is an optimal solution for users looking to reduce their logistics trail as the helmet system can be configured to provide a variety of capabilities to suit the flight operation's specific requirements. The ALPHA 900 is compatible with a wide range of aircraft communication systems, NVGs, Laser Protective Visors, and other helmet system upgrades, including Gentex Corporation's new Aircrew Helmet Noise Reduction (AHNR) technology for protection against increased noise exposure and longer missions. The modern, lightweight military helmet system combines decades of experience as the U.K. MoD's design authority for aircrew helmets with the latest developments in military helmet technology.
Common Configurations
With its unique, scalable, modular design, the ALPHA 900 Helmet System platform can be delivered in a wide range of fixed wing, rotary wing, and fixed/rotary wing configurations by integrating capabilities in communications and respiratory, hearing, and eye and face protection to meet your mission specific needs. Shown below are some of our most common mission configurations.  Contact a Gentex Corporation representative at sales@gentexcorp.eu.com to learn more about available configuration options for the ALPHA 900.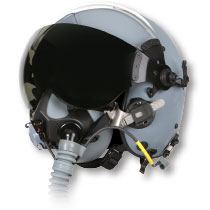 Fixed Wing Missions
Fixed Wing configurations are certified for up to 625 knot ejection. Minimized weight and bulk to support high-G maneuvers, the ALPHA 900 Helmet System has a locking dual-visor system that includes a soft velveteen cover to protect visors from scratching when not in use. Shown here with the Gentex HA/LP Oxygen Mask, which is used by the majority of worldwide military forces.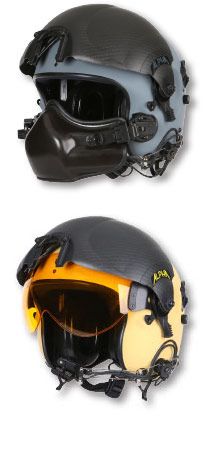 Rotary Wing Missions
Shown here are two common rotary wing configurations. Depicted in the blue/gray suede color option, this configuration includes an NVG-compatible visor housing and maxillofacial shield. The advanced fitting system keeps the helmet stable when using NVGs or other head borne optical equipment, while the maxillofacial shield protects the lower face and reduces wind noise across the boom microphone. 
The sand suede version was configured for when mission requirements demand higher levels of performance and protection. It has an amber visor for improved visual acuity, and a variety of communications options can also be added, including helmet-mounted volume control and Gentex Corporation's Aircrew Helmet Noise Reduction Technology.
Transport Missions
Our most configurable helmet system for transport aircrew, the ALPHA 900 Helmet System can be equipped with an NVG-compatible or non-NVG rigid visor cover and provisions for a maxillofacial shield or oxygen mask. Shown here with the Gentex Boom Microphone Assembly.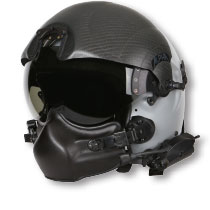 DGA Missions (ALPHA 930 Series)
With over 4,000 fielded, this configuration of the ALPHA 900 Helmet System was developed specifically for the French Direction Generale de l'Armement (DGA) for use in over 25 types of their fixed and rotary wing aircrafts to help meet air, land, and sea operational requirements. The rotary wing configuration shown features a lightweight, fire-resistant helmet shell and advanced night vision and lighting integration.
Scalable and Easily Configurable with Qualified Capability Upgrades
The unique modular design of the ALPHA 900 allows you to easily change or add capability upgrades to meet your current and future mission requirements. With adaptable features, the ALPHA 900 is compatible with a wide range of qualified flightworthy helmet system upgrades, all which can be quickly changed or added without impacting the helmet system's protection or performance capability.
With our new Easy Order Guide, Military Aircrew can more easily select their ALPHA 900 Helmet Systems and receive them quicker. Download now.
Key Specifications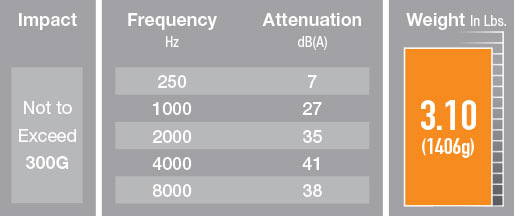 Learn More About the ALPHA 900's Features
Modern, Lightweight Design
Using an epoxy resin aramid and a carbon fiber shell, the ALPHA 900 is lighter in weight than prior models, while providing necessary impact and penetration resistance.
Advanced Performance and Protection
While providing necessary impact and penetration resistance, a lighter weight, streamlined design (featuring a ratcheting nape-strap retention system and tensioning ear shells) provides added stability and comfort for improved aircrew performance, particularly when flying with NVGs or helmet mounted display systems.
Reduced Logistics Trail and Flexible Assets
With a common helmet shell, replaceable and serviceable spare parts, and accessories, maintainers of fixed and rotary wing assets will benefit significantly from a reduced logistics trail. This results in saved time, costs, and improved deployment time of assets to aircrew. Common components also allow fleet managers to easily reconfigure helmet systems to support either fixed or rotary wing applications.
Replaces U.K. and other Fielded ALPHA Helmets
The ALPHA 900 replaces the U.K. MoD's Mk4 (rotary) and the Mk10B/C (fast-jet) series of ALPHA helmets, and the 200 (rotary & non-ejection seat fixed wing), 300 (fast-jet), and 800 (SAR) series of ALPHA helmets used by over 65 Air forces around the globe.